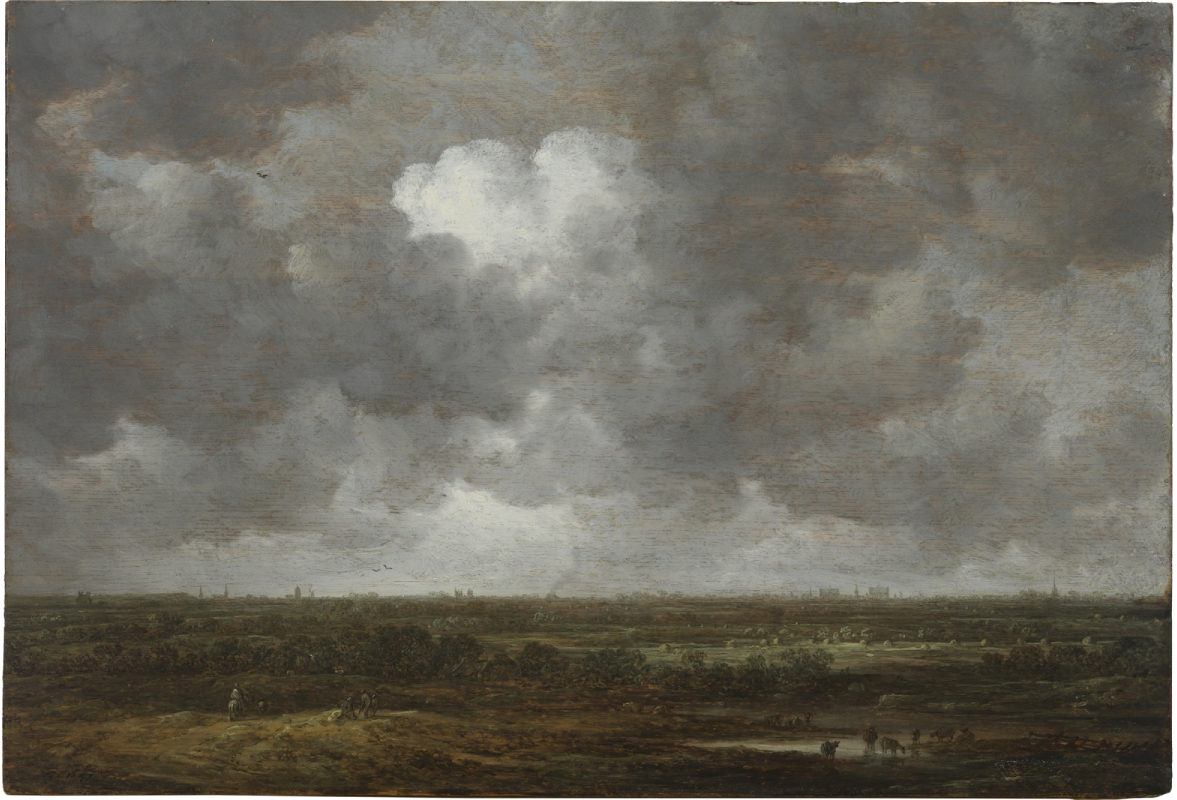 Divine Nature: Two Dutch painted landscapes side by side, part I
Henriette Kets de Vries is the Manager of the Cunningham Study Center and the Assistant Curator of Prints, Drawings and Photographs at SCMA. Below, enjoy her latest installment in a series of blog posts about Then\Now\Next, SCMA's centennial exhibition. You can read part II of this post here.
---
The Netherlands, as depicted in this landscape, is a small country known for its big skies and flat countryside. Jan Van Goyen is one of the most famous Dutch 17th century landscape artists whose majestic and sometimes ominous cloud formations tend to dwarf the humble landscapes below. 
Van Goyen's landscapes were more than just the pretty pictures that graced the living rooms of the average 17th century Dutch family, they were also proud representations of the Netherlands newfound national identity as a united republic.  It was in 1648, the year after this work was created, that the Dutch would win their long war for independence from the Spanish. 
Nationalistic pride of their land with its endless horizons is evident in the many Dutch landscapes created during these times. However, these works are equally religious in nature, though not in ways you might expect.  
Situated below sea level, the Low Countries were perennially forced to innovate in order to hold back the floods flowing from both the sea waters and river waters of central Europe. In the days before clever water management practises, being at the whim of the forces of nature instilled a fear in Dutch society, a fear that only could be subdued by the appeasement of their god. 
We see these sentiments translated in this landscape by van Goyen. His vast skies and unpredictable cloud formations with its dark edges create a heaviness which is palpable, threatening, and overshadows the tiny hardworking people and towns below.
Through industrial vigilance and seafaring trade in foreign goods and in enslaved African people, Dutch Protestants had become an economically prosperous people. However, they had to at least feign humility to please their god and secure a path to personal salvation, for such were the greater natural forces on whose tides their fate would rise and fall at the whim of one disastrous rainstorm. 
Flood in Groningen, 1686, Jan Luyken, Rijksmuseum Amsterdam
This print by Jan Luyken (1649–1712) from 1686 illustrates this very real and constant threat that loomed over the Dutch folk. Observe the presence of the church as steadfast beacon of hope and the central male figure praying on a pile made of wheat sheaves. Surrounded by drowning cattle and sinking buildings, we are left to wonder if the innocent child in the floating crib will survive. 
Not all of Van Goyens' painted skies are threatening. Some of them are more gentle and soft, hovering over bucolic Dutch scenes, showing evidence of a less punishing outcome, of a more forgiving god. The sky, however, does remain to be always the lead actor in his grand natural theater.
Next week Part II with Piet Mondrian's, Trees by the River Gein of ca. 1902-1905.