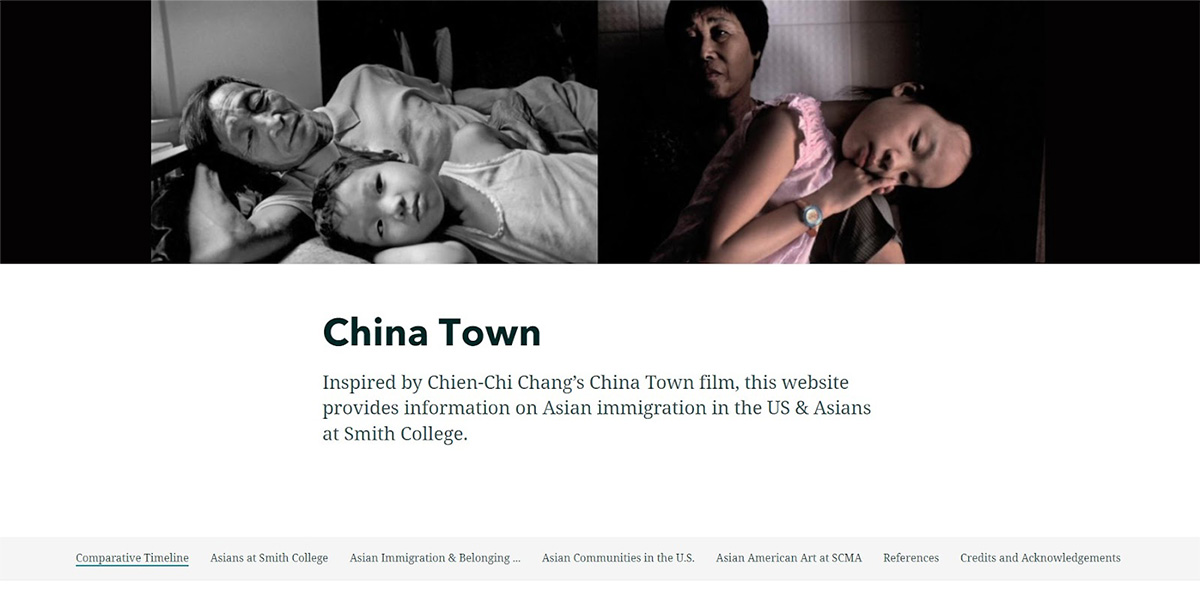 Exploring Asian Presence at Smith and in the US: an Interactive Website
Diem Nguyen '25 is a sophomore interested in art history. She currently works with Yao Wu, Jane Chace Carroll Curator of Asian Art, as an Asian Art Curatorial Assistant. Here, she describes her experience researching and designing an educational website inspired by the film China Town.
---
Chien-Chi Chang's film, China Town, explores the lives of 18 undocumented Chinese immigrants working in New York City's Chinatown. When I first watched the film, I was inspired to promote engagement around its themes of hope and suffering within immigration. Initially, my supervisor Yao Wu, SCMA's Jane Chace Carroll Curator of Asian Art, and I planned to create a pamphlet with information on New York City's Chinatown to accompany the film in the new media gallery. But as I began my research, I quickly realized that there was more information than a pamphlet could display. As a result, we decided to develop a website, which allowed us to include more information and supporting media.  
Yao later informed me of previous student research from Smith College's Special Collections archive that supported artist Yu-Wen Wu's project, "Voices, Visibility, and Versatile Artistic Praxis: Asians and Asian Americans at Smith College." I reached out to Smith's Special Collections to build off the existing research and find archival photographs and information on past Asian affinity organizations like Five-College Pan-Asian Network (5PAN) and the Breaking the Silence: An Asian American Women's Journal.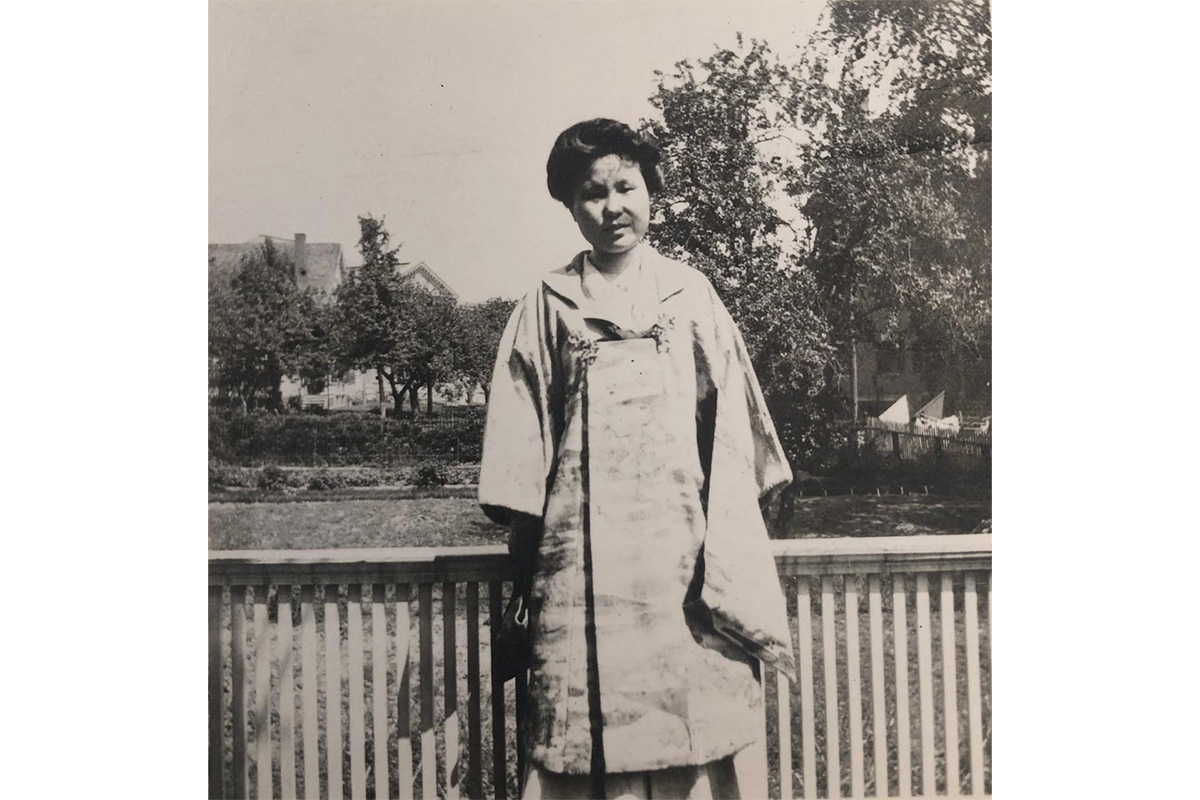 Tei Ninomiya '10, the first Asian Smith College student. Smith College Special Collections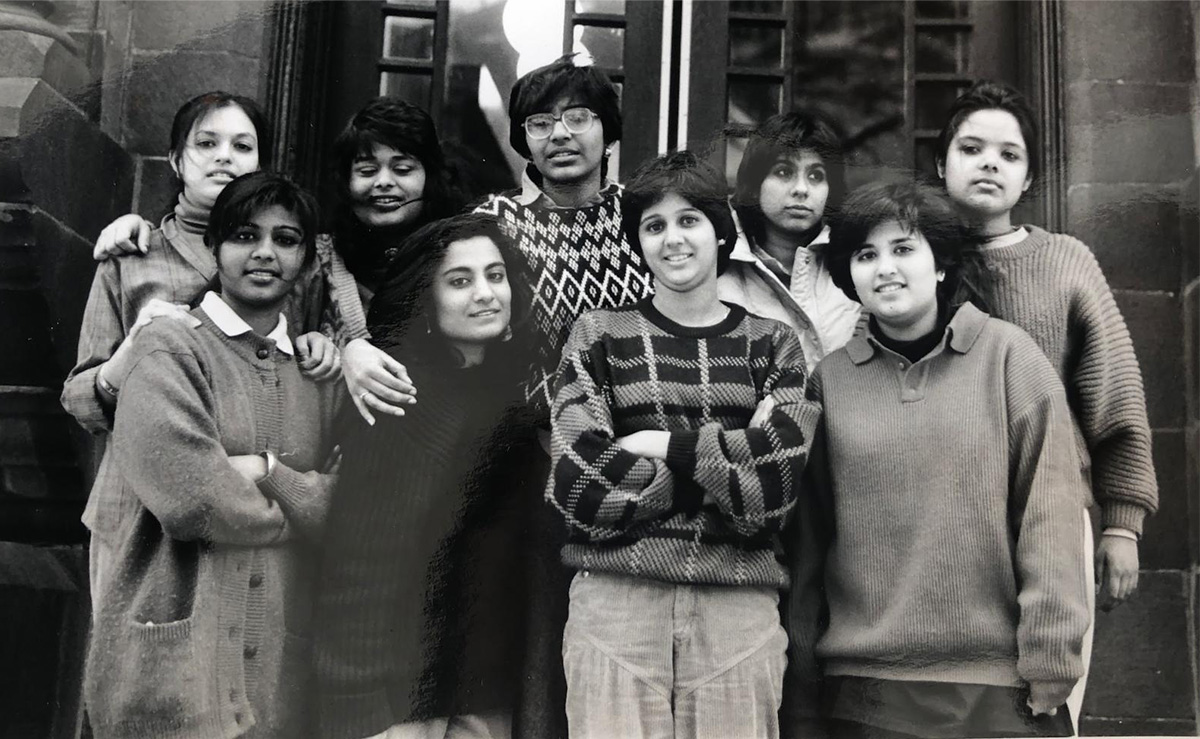 Founded in 1987, EKTA is a unity organization for South Asian students at Smith College. Smith College Special Collections
Afterwards, I connected with Floyd Cheung, Smith's Vice President for Equity and Inclusion and English professor, to gain his insights on significant events in Asian American history. I was personally struck by his observations on the post-Vietnam War migration of Southeast Asian refugees. He mentioned that the government first placed Southeast Asian refugees in areas people would not usually expect them to be, such as Miluakwee. This was to prevent refugees from coming together and avoiding assimilation. Later, the Southeast Asian refugees underwent a secondary migration to cities like Los Angeles, which are now seen as prominent Asian cities. This resonated with me on a personal level, as my father was a Vietnam War refugee who had told me his experience of being placed in St. Louis and later moving to Seattle. However, I had not realized the broader scope of this migration until now. I later connected with Richard Chu, a history professor at UMASS, and gained information on curriculum expansion related to Asian American history at Smith College. Creating the general timeline was harder due to the large number of events in Asian-American history. I consulted with Aprile Gallant, SCMA's Associate Director of Curatorial Affairs and Senior Curator of Prints, Drawings, and Photographs, who suggested focusing on events related to immigration. As a result, I centered my research on historical events surrounding Asian immigration (such as post-Vietnam War refugee migration) and belonging (such as the creation of Chinatowns). Additionally, the film's emphasis on Chinese immigrants in New York City's Chinatown sparked my interest in Asian communities across the US, leading me to create a separate section that highlighted cities with various Asian communities.

CSA and PAiA's screening and discussion of China Town. Members discussed the themes of race, migration, labor, belonging, and connected their personal experiences to the film.
After the research content was organized and edited, I reached out to Jon Karis and Kate Nash of the Spatial Analysis Lab. They offered invaluable technical assistance and helped transform the content into an interactive website. I learned how to create maps using ArcGIS and embed a timeline on story maps.
I hope the website encourages viewers to further explore topics related to immigration in the US and Asian-American history. I also hope viewers can learn more about Asians at Smith College and the various efforts to increase our visibility on campus. For those with personal connections to immigration, I hope the website inspires conversations about their family histories. Preserving these stories is crucial. For those without a familial immigration history, I hope the website serves as an educational resource on Asian-American history and reframe their understanding of migration as not always a choice made by the migrants themselves, but a force from a bigger system.