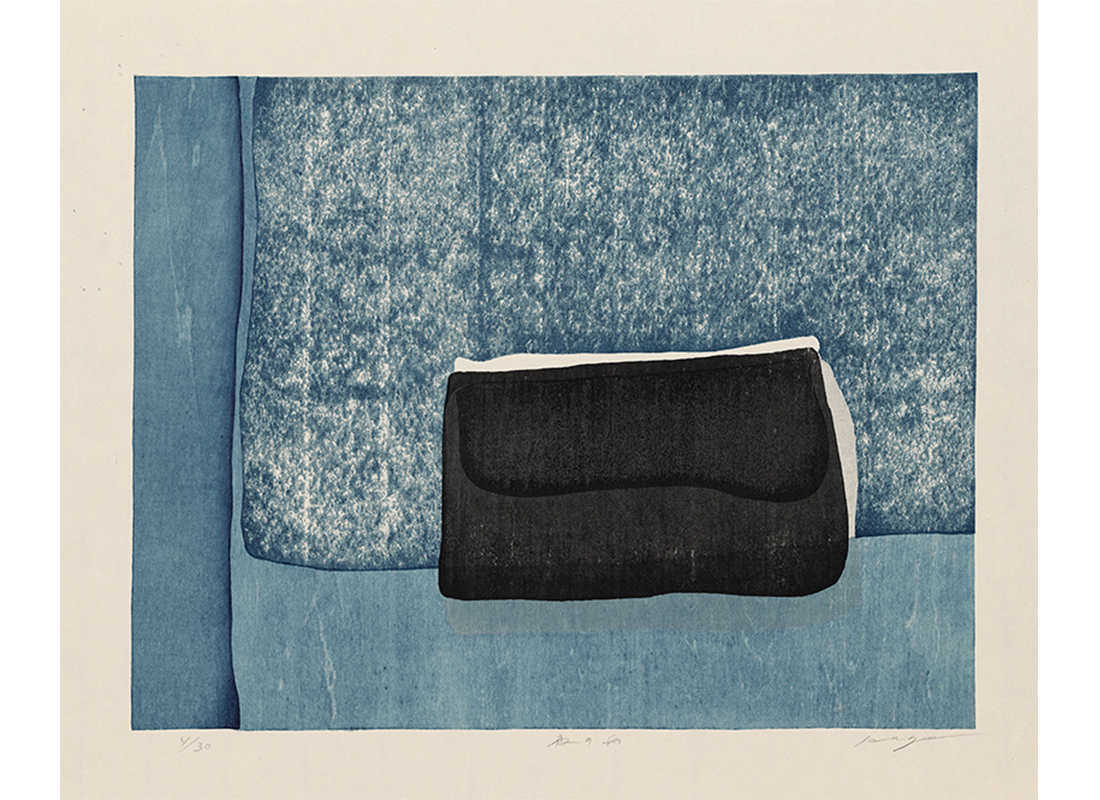 Poems and Prints: Meditations on the Sea
Lexie Casais '23 is an art history and English double major and a student assistant in the Cunningham Center this summer. Poems and Prints is a series of blog posts exploring thematic connections between written and visual expression. In this post, Lexie discusses Goto Hidehiko's print Deep in the Sea and Lucille Clifton's poem "blessing the boats."
---
blessing the boats
By Lucille Clifton, from her 2000 collection Blessing the Boats: New and Selected Poems, 1988–2000  [1]
(at St. Mary's)
may the tide
that is entering even now
the lip of our understanding
carry you out
beyond the face of fear
may you kiss
the wind then turn from it
certain that it will
love your back     may you
open your eyes to water
water waving forever
and may you in your innocence
sail through this to that
---
The ocean has long carried a variety of complex and varied connotations, especially for artists and writers. For some, it represents an ever-present source of tranquility; for others, the sea is a turbulent monster symbolizing change or destruction. For most, it's some combination of the two. In these two works, artist Goto Hidehiko and poet Lucille Clifton offer careful meditations on the ocean as an affirmation of both human and environmental beauty.
Goto Hidehiko (Japanese, b. 1953) is a master of woodblock printing, a method that requires exquisite control and concentration. He is also a master of abstraction: of taking a scene he encounters in nature and transforming it into clean lines and simple shapes. In Deep in the Sea, Goto represents an object—perhaps a small rock, perhaps a sunken ship—lying "deep in the sea." To me, what stands out about the print is not its potential subject matter(s), but rather the serenity it conveys. Through rich, varied textures and muted shades of blue, the artist transforms the sea into something new. Something not necessarily simple or easy to understand, but lovely to behold nonetheless. Something strikingly comfortable, soft.
In her poem "blessing the boats," Lucille Clifton emphasizes a similar serenity. Clifton (American, 1936–2010) is known for her formal minimalism—her ability to convey the complexities of life using short lines and limited punctuation. In this poem, Clifton uses the ocean to affirm individual agency, particularly in a spiritual sense. 
Matthew Pifer argues that "in 'blessing the boats,' Clifton offers… a blessing, one in which an individual's human compassion and empathy (not some god's grace) is proffered to another." [2] The poem's direct second-person address ("you") is especially indicative of the power Clifton believes resides not within some larger force, but within the individual. Through the metaphor of the changing tides, Clifton emphasizes the spirituality inherent in self-assurance—in being confident that, for example, the wind will "love your back" (line 9). 
Where Goto Hidehiko's print mines a universal sentiment from a particular scene the artist encountered, Clifton demonstrates the highly individual spiritual connections that can arise in relation to the sea. Both works show the importance of a careful consideration of the ocean as a vehicle for understanding one's world—for finding grace, self-possession, or simply a moment of calm. 
[1] Lucille Clifton, "blessing the boats," Poetry Foundation, accessed May 26, 2021, https://www.poetryfoundation.org/poems/58816/blessing-the-boats. Poem originally published in Lucille Clifton, Blessing the Boats: New and Selected Poems 1988-2000 (BOA Editions Ltd., 2000).
[2] Matthew T. Pifer, "Performing the Blessing: Revisiting Lucille Clifton's Blessing the Boats (at St. Mary's)," The Explicator 77, no. 1, 2019: 13. 
If you're interested in other artists in SCMA's collection who depict the ocean, the work of Vija Celmins is a great place to start. This 2013 blog post by former Brown Post-Baccalaureate Curatorial Fellow Julie Warchol explores Celmins' print Untitled [Waves]. 
If you'd like to tackle some of the historical complexities of the ocean, particularly in relation to the Middle Passage, I've listed a few excellent sources below:
The work of Deborah Jack, whose video the water between us remembers, so we wear this history on our skin, long for a sea-bath and hope the salt will cure what ails us, recently entered SCMA's collection. Sophie Poux '21 writes about Jack's work in this recent blog post. 
M. NourbeSe Philip, Zong! (Middletown, CT: Wesleyan University Press, 2008).
Derek Walcott, "The Sea is History," Poets.org, accessed May 26, 2021, https://poets.org/poem/sea-history.