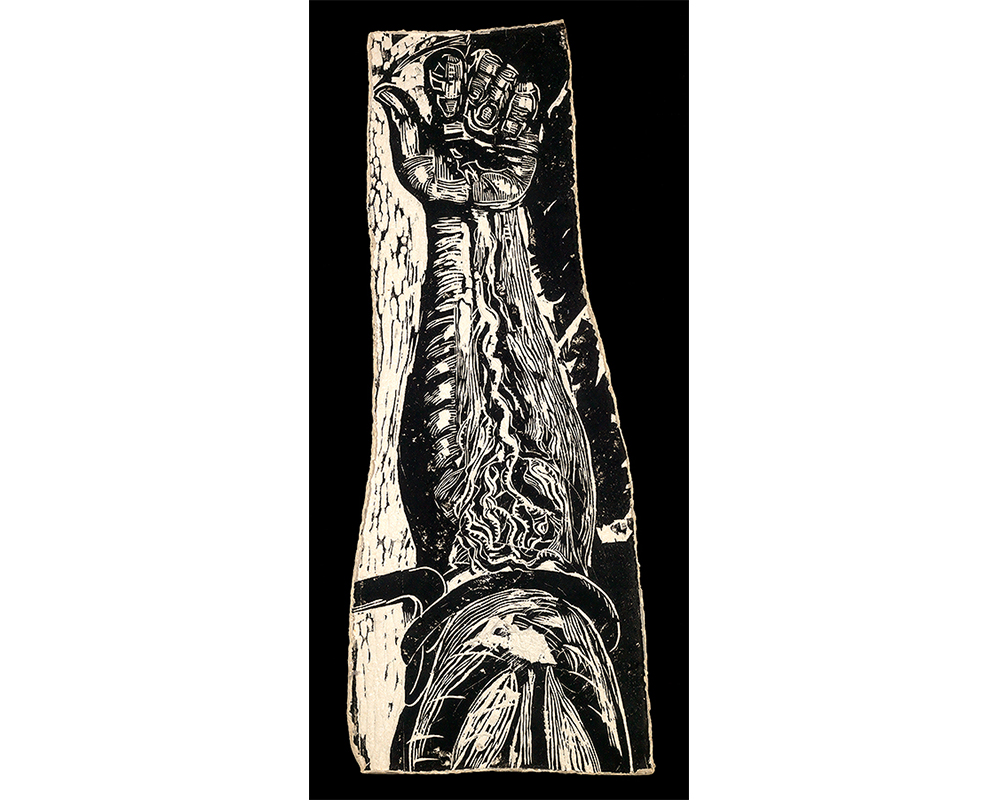 Staff Picks: Eric Avery's "Blood Test"
Guest blogger Justin Thomas is the Museum Store Manager at SCMA. In this contribution to the museum's Staff Picks series, Justin shares his thoughts on Eric Avery's Blood Test and discusses the connections the print exposes between the COVID-19 pandemic and the AIDS crisis.
---
Why did you pick this work for your Staff Picks contribution?
I chose this work because I saw another print by Eric Avery in SCMA's exhibition, Then\Now\Next. I've started doing this self-practice when I go into a museum space: I try to concentrate not only on works that I am naturally familiar with or drawn to, but also works that are new to me and that are reflective of how I identify. I've been really trying to engage with artists that I am not familiar with at all. I had never heard of Eric Avery or seen any of his work until I saw that print in Then\Now\Next. So, for this blog post, I wanted to learn more about his work and talk about it here. 
What have you learned about Eric Avery and his practice? What has stuck with you about Avery's work after your initial interest in the print you saw in Then\Now\Next?
I started doing research online about the artist and speaking with curator Aprile Gallant here at SCMA. There were links on his website to previous SCMA blog posts by Aprile, which were really great. I've also looked through a lot of his prints in person here in the Cunningham Center. I find the intersection of science and art in Avery's practice to be really exciting; his background as a queer man, as a scientist, as an activist, and as an artist all come into play in his work and in his mission. 
Could you elaborate more on why you picked this print, Blood Test? Why do you find it to be particularly powerful?
Like with many artworks, my initial interest in the work comes from aesthetic and formal aspects. When I saw it in person, the fact that it is three-dimensional was compelling. Where the cut-out sections of the woodblock were, the artist took paper pulp and piled it onto the woodblock, and firmly pressed it in and in that process created an inked, relief sculpture really. 
The subject matter is the artist's own arm; he's getting a blood test. The print was done in 1985, right around the time when the first tests for HIV/AIDS were available, so that is what Avery is speaking to in this print. There's this beautiful and exquisite tension in the print for me. It shows his forearm, from about the crease of the elbow down to the hand, and it's tied off, ready to get the blood drawn. He's making a fist, like they tell you to do when you get blood drawn, and you can feel that motion in the print. On top of that, there's the three-dimensional quality to it. You can feel him pressing the pulp into the woodblock after it was inked. There's this beautiful, tactile sense of the pulp of the paper. But then, there's also this sensitive use of line within the print. That's what initially drew me to it. Also, I love black and white work. For about a year and a half, in my own art practice, I've only been working in black, white, and pink. Whenever I see another artist working in black and white, I always look more closely. 
Of course, what Avery is talking about in this print—infectious disease—also parallels what we are collectively living in right now. It's a clear parallel: two huge public health crises. As a queer person who came of age in the AIDS crisis, when COVID-19 started, I saw so many parallels in how people respond to public health crises. So much has not changed. It's heartbreaking, but expected. 
I'd be really interested to hear how Eric Avery would respond to some of these parallels. Especially right now, we have the COVID vaccine, which parallels the moment when medication and drugs first came out to manage HIV/AIDS. When they became available, both treatments were immediately weaponized and politicized. Those with funds and resources have access to this care, and others don't. 
Is there anything else you want to add about this print?
I've been thinking a lot about how, in processing contemporary realities—issues that we navigate as individuals, but also cultural, community-wide issues—art really does inform us. It really does heal us and help guide us. The guidance art gives us is often a window into certain issues, and even sometimes a mirror reflection for us. This piece makes me think about how grateful I am to have access to artwork. We've all been so inundated with news and information, especially in the past year. I think we can forget how visual expression and artwork play a role in fully understanding something. Seeing this artwork presented me with the opportunity to think about and process what I've personally been through in the last 15 months of this pandemic—while also, of course, reminding me about the height of the AIDS pandemic, which is far from over. 
We hope you enjoyed this installment of SCMA's Staff Picks series. We would love to hear which work is your favorite and why! 
Comments
Submitted by

Eric Avery

on August 2, 2021
How cool to read Justin's reflections on my Blood Test print. Aprile has it beautifully framed in the Cunningham Center. I made it while waiting for the results of my first HIV test. I was counseled to expect to be HIV+ and probably die from AIDS. What they got wrong was that my risk was not group identity as a gay man. I was negative because of my behavior - what I did or didn't do.
COVID is my second pandemic and Justin's thoughts about parallels between then and now prompt a few thoughts. Both these Emerging Infectious Diseases have origin roots in our lives with animals. Both exposed deep social and cultural differences and health disparities which complicated public health responses and led to massive death.
The benefits of understanding AIDS, the immune system and how to construct a pharmaceutical response
contributed to the rapid development of COVID vaccines. As a HIV/AIDS health care worker, overcoming resistance to condom use was a challenge but who could have imagined that it would be difficult to get masks on faces, or life saving COVID vaccines into arms.
Infectious diseases are just doing their thing, their life cycle. We are a lot more complicated and getting sick and dying because of it. Behavior and beliefs continue to separate the living from the dead.
Making art has always been a way for me to respond to my life. Justin's reflective engagement with my print reminds me of how art can work. I'm thankful for this. It also reminds me of how difficult it is to carry forward lessons from the past.