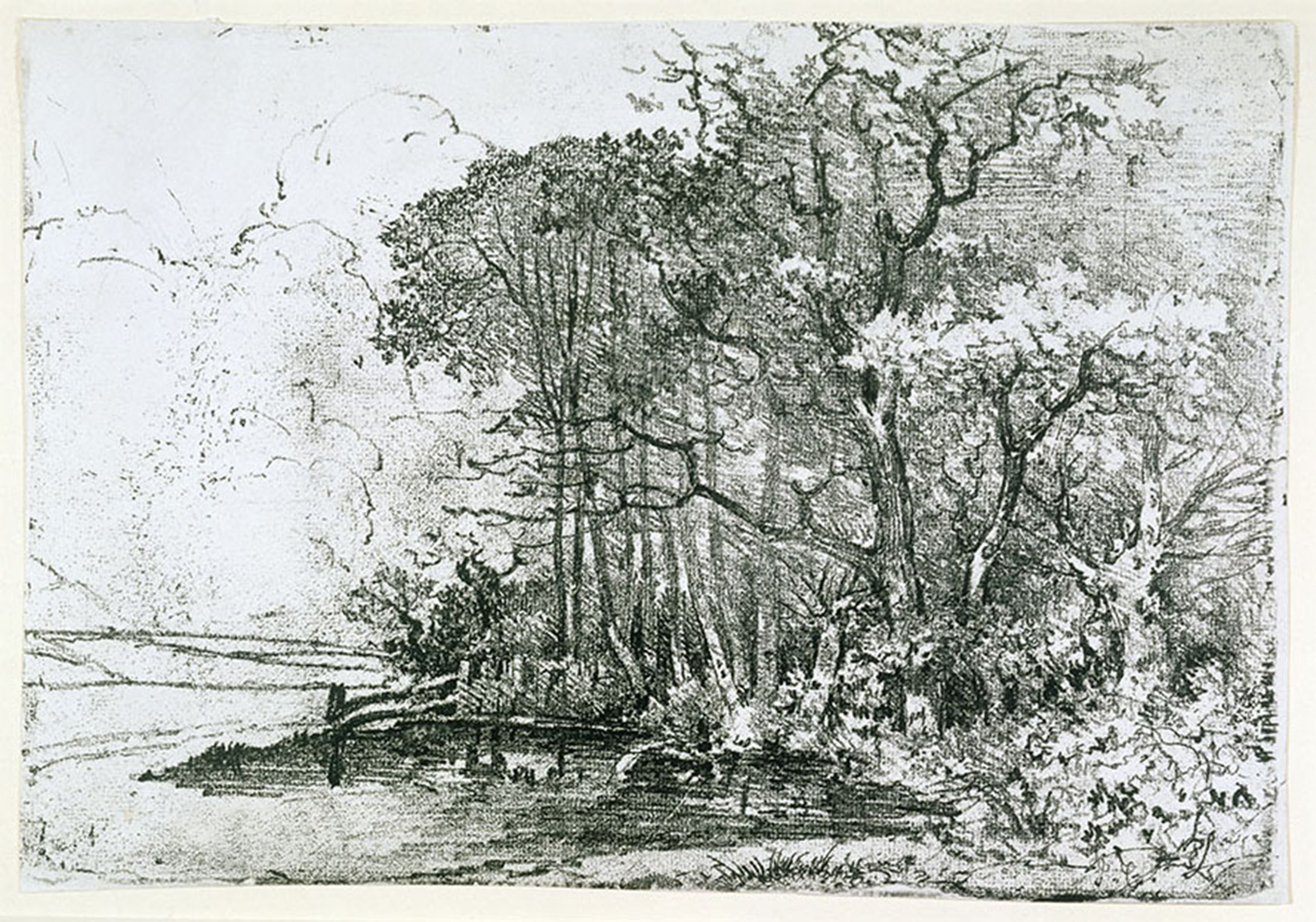 On the Threshold
Guest blogger Sarah Ducharme is former Cunningham Study Center student assistant, East Asian Studies major, and member of the class of 2021. This is the first in a series of posts reflecting on the relationship between human beings and the natural environment.
John Crome's Wooded Landscape (included in his Norfolk Picturesque Scenery Series) depicts the edge of a forest looming over a clearing. With billowing clouds in the receding landscape, the scene depicts a period of calm before a creeping storm — a storm one could read as human encroachment.
Completed in 1834 in England during the European Romantic movement, this piece sits within the height of the beautiful, the picturesque, and the sublime. The grandeur of the old forest towers against soft mountains of cloud as Crome depicts a casual image of nature's sublime power. This is a nature that would subdue humanity — a nature that in this moment, appears to do just so.
At the edge of this looming forest sits a small manmade structure: a wooden fence. Compared to the forest this feature of humanity is minuscule. It stands on the threshold of a nature that would envelop it, taking it back into itself. It must draw consideration that this man-made structure is of nature itself. On the precipice of two existences, human and natural, this fence is drawn back within the forest. This is not a piece of humanity dominating nature, but of nature dominating humanity. This feature of human existence in the natural world is insignificant compared to the grandeur of nature. It is the forest, not the fence, which occupies the positive space in this piece. Nature, enveloping, is dominant in the rough, organic lines of the piece. Whether intentional or not, Crome's forest evokes a sense of the superiority of nature over humanity. The fence, though minute, is a triumph of human power that will persist in its colonization of nature long after its encroachment. Yet over time the forest will consume it, reclaiming the wood as its own. Crome's forest welcomes the human world to embrace its existence within nature. It encourages coexistence, though not without the pressure of its sublime grandeur. In the late Industrial Revolution, Crome's depiction proposes the possibility of a natural coexistence — a possibility, however, on the threshold of extinction.
Previous posts:
1. Introduction | The Sublime in the Mundane: Human Encroachment in the Natural Landscape